Captain Hardcore supports the full range of Lovense toys! Connect them to any character or object in the game and feel the movements through your toy. Works with both PC and Quest versions. Compatible toys are available here.
How to connect toys:
1) Connect the toy to the Lovense Remote app on your Android/Iphone. The device you connect your toy to must use the same Wifi connection as the PC/Quest you have Captain Hardcore on.
2) Go to the "Me" tab on Lovense Remote app, tap "Settings" and enable "Game Mode". The app will show your phones IP address and port.

3) In Captain Hardcore open the popup menu and press the Teledildonics icon.

4) Go to the Lovense tab and press "Settings". Enter the IP address and the port shown in the app. Press "Scan for toys" and the toy should appear in the menu.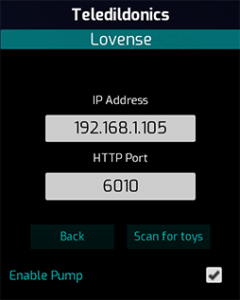 How to assign toys to objects in the game:
1) Click on a toy to assign it to an object. The game will enter object selection mode and the laser pointer will turn blue.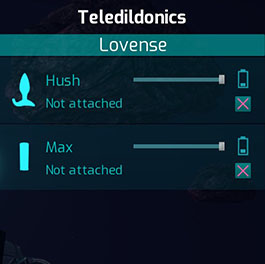 2) Point at an object and press the VR menu button (B or Y on Oculus or Index) or left mouse on desktop.
3) The toy will now vibrate in sync with the objects movements.
Tips:
If the game says connected but the toys don't show up make sure they're connected to your phone.
Adjust movement sensitivity using the sliders.
Press the red X to disconnect a toy from an object.
You can assign toys to different parts of a character like the head, ass, feet etc.
If you have multiple toys they can be assigned to different objects.
Almost any movable object can control a toy, even the floating asteroids or the doors on the ship!